SEBASTIANO FOTI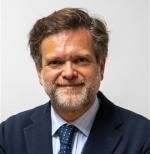 Full Professor

Vice Rector for Education
Member (Board of Governors)
Member (Academic Senate)
Componente Comitato Esecutivo della Scuola di Master e Formazione Permanente (Specialising Master's Programmes and Lifelong Learning School)
Coordinatore Commissione Didattica (Commissione Didattica)
Member of Interdepartmental Center (SISCON - Safety of Infrastructures and Constructions)
Coordinator (Commissione Contribuzione e Progettualità Studentesca)
Coordinator (Commissione istruttoria per il Coordinamento dell'Attività Didattica e formativa)

+39 0110904896 / 4896 (DISEG)
Sebastiano Foti is the Vice-Rector for Education and a Professor in Geotechnical Engineering at the Politecnico di Torino, where he also received his PhD degree.
His research activity is mainly devoted to geophysical methods for geotechnical characterisation, with particular reference to surface wave testing, seismic waves in porous media and the use of geophysical techniques in the lab. His other research interests include seismic site response, soil-structure interaction, structural dynamic tests for the assessment of existing foundation systems and earth retaining systems in seismic zones. He authored over 200 scientific papers (of which 80 in peer-reviewed international journals), three books and six book chapters.
He was awarded the Geotechnical Research Medal (Bishop Medal) 2003 by the Institution of Civil Engineers (UK); an Honorable Mention in the Best Paper category in 2011 by the Society of Exploration Geophysics (USA); and Outstanding Paper Awardby the EERI (Earthquake Engineering Research Institute), USA in 2018.
He is a member of Technical Committee TC 203: Earthquake Geotechnical Engineering and Associated Problems, and a former core member of TC 102: Ground Property Characterization by In-Situ Tests of ISSMGE (Intern. Society of Soil Mechanics and Geotechnical Engineering).
He has been a member of the Editorial board of Soils and Foundations, the official journal of the Japanese Geotechnical Society.
He has been actively involved in several research projects and contracts and has been the principal investigator for several research or consultancy contracts of Politecnico di Torino.
The impact of his publications is quantified by the following indices (at the date of Mar 1, 2021):
- number of citations: 2721 (scopus), 2174 (WoS), 5265 (Google Scholar)
- h-index: 26 (scopus), 24 (WoS), 34 (Google Scholar)
Scientific branch
ICAR/07 - GEOTECNICA
(Area 0008 - Ingegneria civile e Architettura)
Skills and keywords

ERC sectors

PE8_3 - Civil engineering, architecture, maritime/hydraulic engineering, geotechnics, waste treatment

SDG

Goal 7: Affordable and clean energy Goal 9: Industry, Innovation, and Infrastructure Goal 4: Quality education Goal 11: Sustainable cities and communities

Keywords

Geotechnical earthquake engineering Geotechnical engineering Hydrogen storage Scour of foundations Seismic hazard Seismic response Seismic risk Seismic waves Soil liquefaction Soil-structure interaction
Scientific responsibilities and other assignments

Awards and Honors

Bishop Medal 2003 conferred by British Institution of Civil Engineers, United kingdom (2003)
Honorable mention in the category Best paper in GEOPHYSICS. conferred by SEG - Society of Exploration Geophysics, United States (2011)
2018 Outstanding Paper Award from Earthquake Spectra conferred by Earthquake Spectra Editorial Board, the EERI Board of Directors, United States (2018)

Editorial boards

GEOTECHNICS (2021-), Editorial board member
SOILS AND FOUNDATIONS (2015-2017), Editorial board member

Other research or teaching roles outside Politecnico

Visiting Professor at Nagoya University (9/11/2013-17/11/2013)

Non-commercial collaboration agreements

Accordo di cooperazione strategica tra la Soprintendenza Archeologica, Belle Arti e Paesaggio per le Province di Frosinone, Latina e Rieti, l'Ufficio del Soprintendente Speciale per le Aree colpite dal sisma del 24 agosto 2016, la Curia vescovile di Rieti e il Politecnico di Torino, (2017-) - Responsabile Scientifico

Non-commercial collaboration agreements

Countries

Institutes/Companies

Soprintendenza Archeologica, Belle Arti e Paesaggio per le Province di Frosinone, Latina e Rieti
Soprintendente Speciale per le aree colpite dal sisma del 24 agosto 2016
Curia vescovile di Rieti

Accordo quadro tra il Politecnico di Torino e la Fondazione Germana Erba's Friends, (unknown date-unknown date) - Responsabile Scientifico

Non-commercial collaboration agreements

Countries

Institutes/Companies

Fondazione Germana Erba's Friends

Accordo di Cooperazione scientificca e strategica avente ad oggetto il santuario di santa maria delel grazie in amatrice, localita' varoni (RI), (2018-2019) - Responsabile Scientifico

Non-commercial collaboration agreements

Countries

Institutes/Companies

Soprintendente Speciale per le aree colpite dal sisma del 24 agosto 2016
Soprintendenza Archeologica, Belle Arti e Paesaggio per le Province di Frosinone, Latina e Rieti
Curia vescovile di Rieti
Sgretario Regionale MIBACT del Lazio

Convenzione dipartimentale tra Politecnico di Torino - Dipartimento di Ingegneria Strutturale, Edile Geotecnica - DISEG e il Consiglio Nazionale delle Ricerche relativa allo svolgimento in collaborazione di attività legate a "interventi urgenti in favore delle popolazioni colpite dal sisma del 24 agosto 2016", (2017-2017) - Responsabile Scientifico

Non-commercial collaboration agreements with public institutions

Countries

Institutes/Companies

CNR - IGAG Istituto di Geologia Ambientale e Geoingegneria